24 April 2023
For any marketing department, understanding the target group is essential for the success of its marketing efforts. A tried and trusted way to do this is to spend some time in their shoes. But what if a large part of your target group works offshore, at locations where you need to be trained and certified for to get access?
The closest we as the marketing department at Atlas Professionals often get is a second-hand experience through interviewing our Professionals. If we're really lucky, we get to visit their work location, for example during a port call for a photoshoot. So, when the opportunity presented itself to attend Offshore Safety Training as part of teambuilding with FMTC Safety, we seized it with both hands!
In this blogpost, we share our experience and hope to give a better understanding of what Offshore Safety Training entails for people interested working in the Offshore industry. But before, we want to extend a big thank you to FMTC Safety for facilitating this experience. As one of our valued suppliers, FMTC Safety is the safety training centre for Offshore training, Wind training, Maritime training and Industry training offering high quality trainings to the Professionals that go to work offshore for our Clients – and we got to see first-hand that they indeed excel at what they do.
Getting dressed
It all starts with wearing the right attire. Following a safety briefing, we were shown the changing rooms where we had to put our survival suits on. When going to an offshore work location by helicopter, every passenger is wearing such a suit and a life jacket -talk about your daily commute done differently! Over the dry suit, we put on the shoes provided by the training centre, and off to the pool we went for the onsite briefing.
Our training guides explained what we were going to do, and how to do it safely. It was a great reassurance that there as a very competent crew, including two divers, at hand to ensure we practised our helicopter escape skills in the best possible, safest environment. We put on our life jackets and helmet and ventured into the water. As all the air that is still in your dry suit created buoyancy, we had to let out all the air of the dry suit and made our way to the 'helicopter'.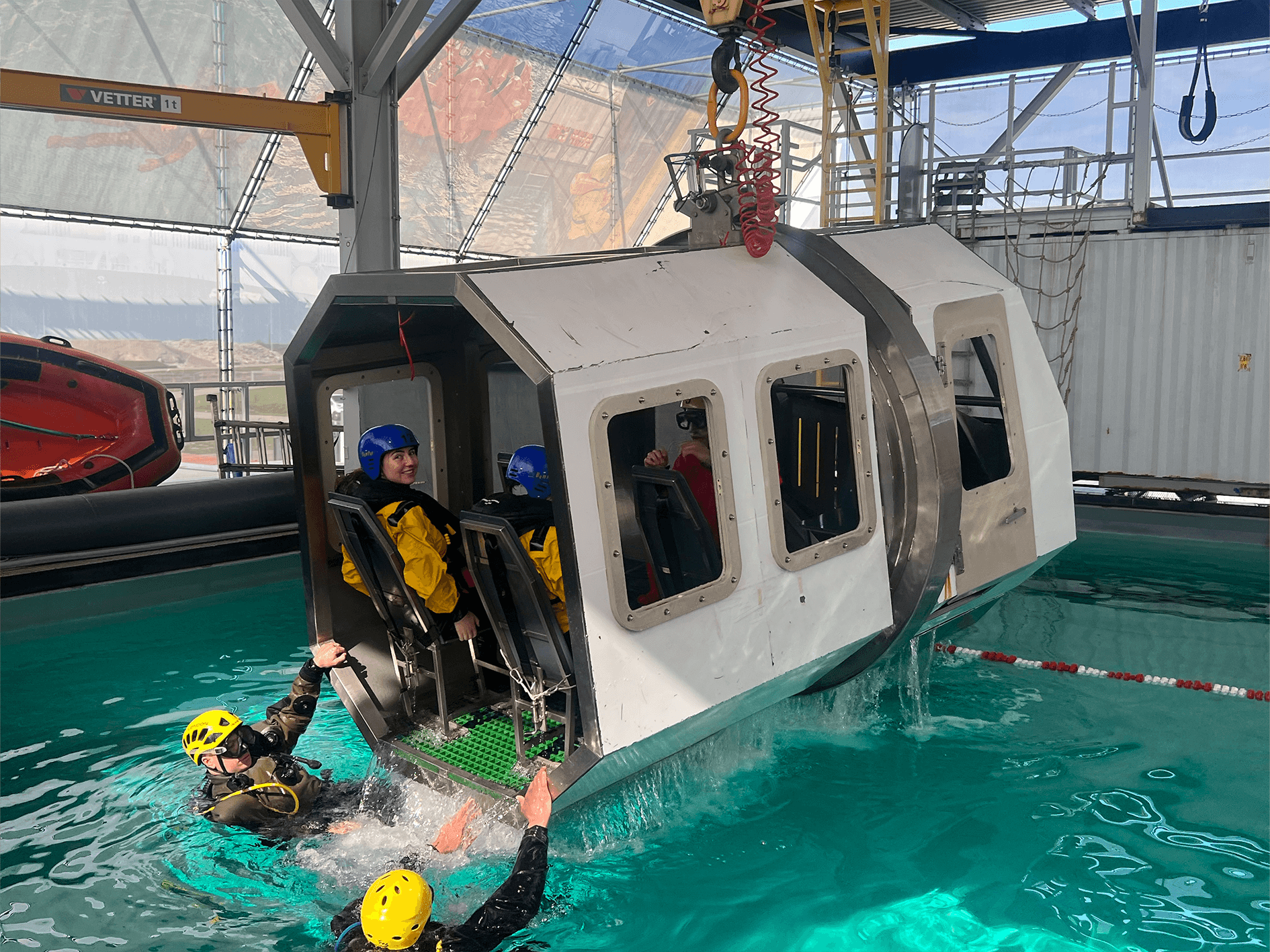 Helicopter Underwater Escape Training
We did a short version of the Helicopter Underwater Escape Training (HUET), which is a certificate you need for most offshore jobs. The full training consists of a theoretical and a practical part and has a duration of 1 day. The purpose of the HUET training is to teach passengers and crew the knowledge and skills necessary for safe travel by helicopter so that they can act appropriately in emergency situations. Since the helicopter flies mainly over (open) water, it is very important to know how to react if a helicopter hits the water, for example as knowing what actions and procedures to follow can really make a huge difference. That is why it is always important that to follow the HUET training at a training centre that simulates reality as closely as possible.
The basic idea of the HUET is that the helicopter you are in hits the water and is then capsized – at that point, you need to get out! The trainers take you through this step by step, making the exercise more demanding at every run. We started by lowering into the water until just above our shoulder height. Then, we had to change from our brace position to the escape position, placing one hand on the window, and one on our belt to unclip this and escape through the window frame. We did not need to push out the windows as we are newbies - we (luckily!) did the training without any windows in the helicopter, taking away another difficult part of escaping.
We repeated this process as the training team made it progressively more difficult (or should I say scary!) as we completely went under water this time. The hardest part for me, personally, was to stay put until the helicopter stalls and not try to escape too soon as that would just result in getting pushed to the roof of the helicopter. The final step we did was to have the helicopter go under water and then rotate to simulate the capsize – which was, to say the least, extremely demanding.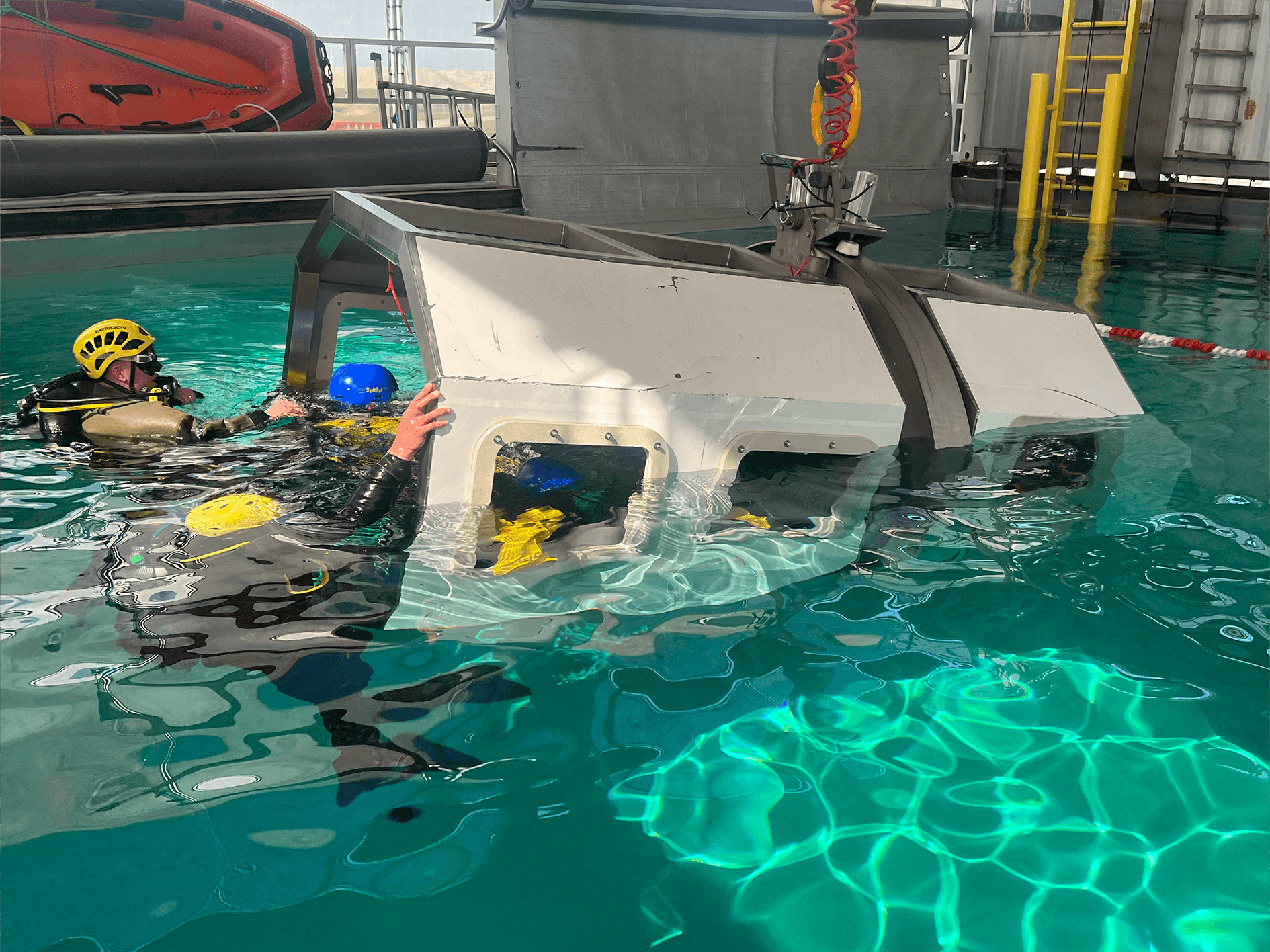 Offshore Survival Training
Having successfully escaped form the helicopter ditching into the sea, we now had to make sure we survived together as a group. The next simulation was an "abandon ship" exercise. We jumped of our ship and inflated our life jackets and as we tried out the hoods that come with them most of us realized it was a pretty claustrophobic experience. Then, we had to make sure we didn't float away from each other in the ocean, be visible for the search and rescue helicopter and swim as a group towards the life raft. Although I am an avid swimmer and water sporter, this proved to be harder than I thought wearing the survival suit and life vest!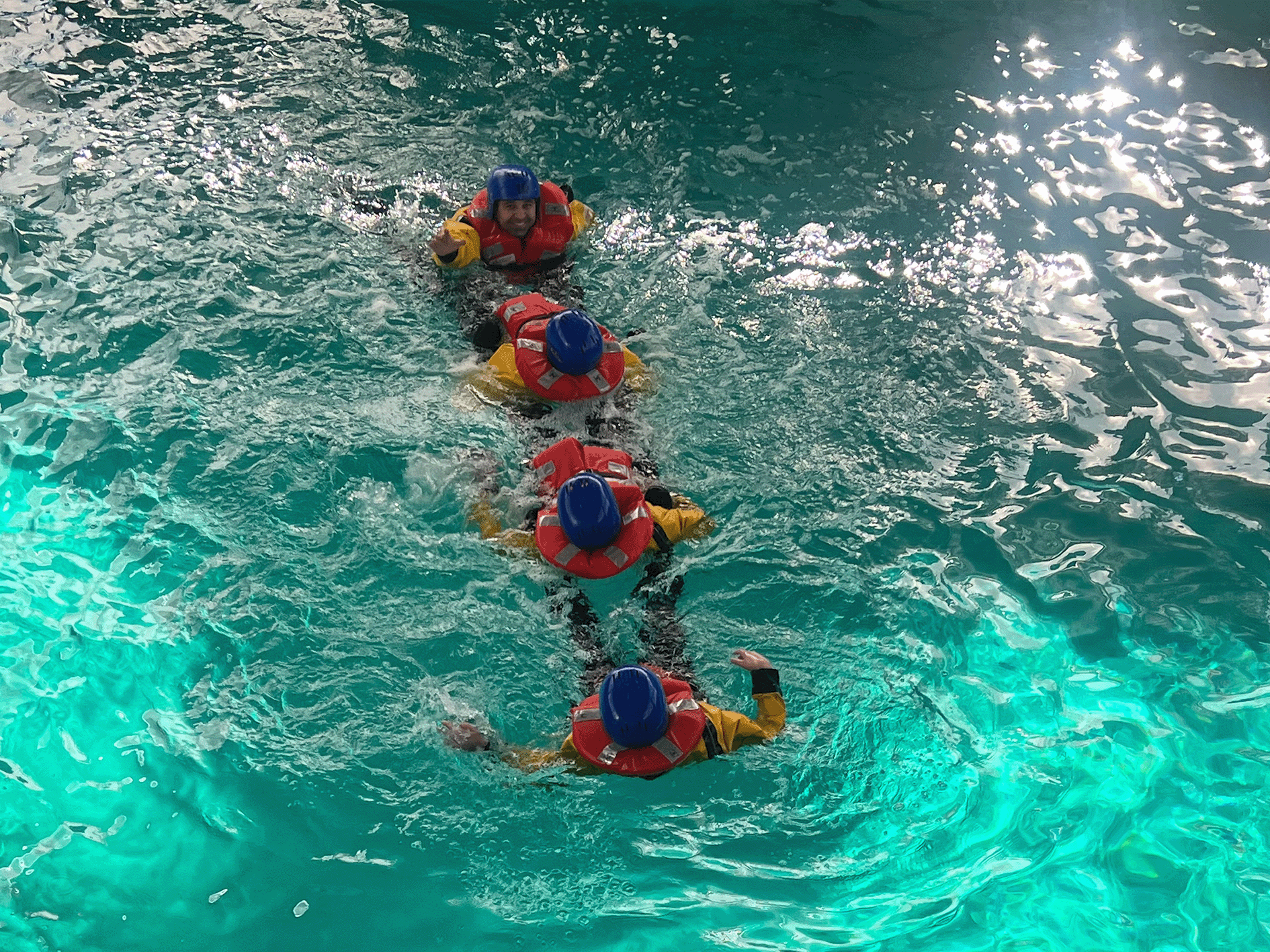 Boarding the life raft again was something that is harder than it seemed. Someone needs to hold it down, so it doesn't capsize, then you need to get in and find a spot for everybody to sit comfortably – that is, as comfortably as possible under these circumstances! We then closed the life raft up to experience what this entire situation might feel like under a heavy rain. Once more we were surprised by how claustrophobic of an experience this was. And to think this was without any waves! Lastly, we simulated being picked up from the life raft by a helicopter and were demonstrated how an Escape Chute works.
Overall, the afternoon was a fantastic way to get a step closer to knowing and understanding our target group, offshore Professionals, better. We now better understand the risks associated with the jobs of our Professionals we recruit for globally and hope to be able to provide even better communication and guidance on this to minimize the potential for injury, loss of life, and damage to property, achieving our Zero Harm goal.