Atlas Professionals is active within the renewables industry and currently recruiting for a Project Engineer in the Alkmaar area. Are you ready for the next step in your career and eligible to work in The Netherlands? Please let us know and send us your application. 
Job description
Liaising with clients to identify and define project requirements, scope and objectives
Coordinating project related activities, resources, equipment and information to meet project requirements
Communicating and reporting that client's needs and requirements are met throughout the project lifecycle
Help prepare project proposals, timeframes, schedule
Monitor and track project progress and handle any issues that arise
Act as the point of contact and communicate project status adequately to all participants
Supply and retain all appropriate statutory and regulatory information
Report and escalate to management as needed
Draft and maintain comprehensive project documentation, plans, reports and procedures
Draft and maintain project related drawings using 2D and 3D design
Job requirements
Excellent client-facing and internal communication skills
Excellent written and verbal communication skills
Solid organisational skills including attention to detail and multitasking skills
Strong working knowledge of Microsoft Office and of project management tools
Previous project experience in an offshore/engineering related field is an advantage although not essential
Previous experience in cooperating with Project Managers for the delivery of projects is an advantage although not essential
Required to work outside of core working hours to deliver project targets/timescales
A good knowledge of Engineering Drawings and Autocad experience is advantageous
Good analytical skills
Team player with ability to work on own initiative
Willingness to travel
An affinity with the offshore and/or marine environment is preferable.
More info
To apply for this position, use the 'Apply for this job' button. For more information, please call or send an email to vacancy contact person.
Contact Person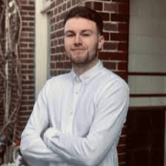 Krijn Esveld
Personnel Coordinator
Other vacancies that might interest you